THE UDON NOODLE BOWL
"Udon, soba, ramen or rice noodle - is there anything better than this plus some piping hot broth?  It's pretty much Asian chicken noodle soup for the soul. All you need is this...." - Ming Tsai
The Story of the Buddha Bowl
My design was inspired by the Begging Bowl, or Alms Bowl, used by Buddhist Monks.  It is a simple bowl for collecting food or money.  Legend has it that Buddha was meditating beneath the Bodhi tree, when a woman offered him a golden bowl filled with rice.  Buddha divided the rice into 49 portions, one for each day, until he would be enlightened.  Today, you may see the "Buddha Bowl" meal in restaurants or cookbooks.  It has become a way of meaning a nutrient rich meal in a bowl. 
About Us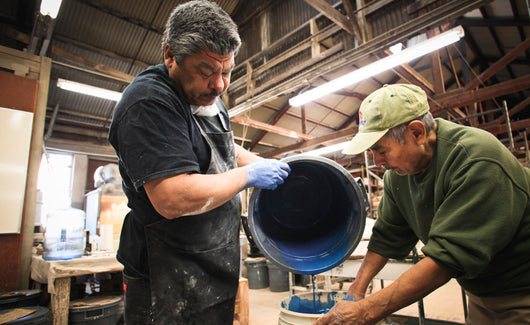 ABOUT US
With a small studio near Vancouver, British Columbia & a collaborative studio in California, we can source and support local resources; clay, glazes, boxes, labour, printing, suppliers etc., all from the USA and Canada.  All glazes are made in Los Angeles and adhere to California Proposition 65.
Handmade in north america
We are an interdisciplinary design studio.  Élan, Owner and Designer has created commercial, corporate, interior and graphic design projects. Along with contract work, Flavour's main focus is on producing contemporary home accessories carried throughout North America and Europe.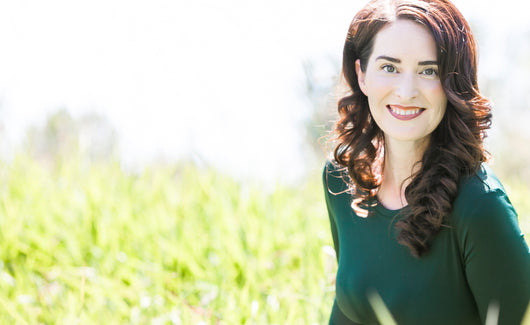 With Élan
I strive to design products that make people say "Why didn't I think of that!" My pieces aim to be clever, yet elegant, with a strong emphasis on ergonomics and functionality. I believe that the items you choose to surround yourself with should be interesting. They should enable you to strike up a conversation or at least make you smile.


Editor's Choice
"Bowl of fun - Designed to fit perfectly in the palm of your hand , the Baby Buddha Bowl will make eating on the couch a breeze." - Clean Eating Magazine
A fine Dish
"Get Zen while eating your morning cereal or dinnertime noodles with Flavour Design's ceramic Buddha Bowl. It's fluid, ergonomic shape, designed to nestle comfortably in the palm of your hand, has a chunky, substantial look and simple, contemporary appeal." House & Home Magazine
OODLES OF NOODLES
"This Noodle Bowl is the first object that ever inspired me to stay in and serve a bowl of soup." - Rita Konig
Eat Smart
"Perfect Portions. Serving size is the secret to not packing on the pounds, especially during the holidays. These spa tricks can help you avoid super-sizing. Downsize at home for instance calorie savings. Try one bowl (12 ounce) eating with the Baby Buddha Bowl. " Bon Appetit Magazine
Cup of Cheer
"Need to start the day just right? The vibrant color choices of the Buddha Bowl should do the trick." - Vegetarian Times Magazine
Wrap your hands around this
"Love a warm cup of cocoa or tea on a chilly fall morning? Make it an even cozier ritual with the Buddha Bowl, designed to warm your hands while you enjoy your hot drink or soup." - Health Magazine
Super Bowls
"Created by British Columbia based Flavour Design, Buddha Bowls make cozying up with a bowl of chicken noodle soup, your favourite ice cream, or even boring old breakfast cereal feel like an indulgence. Handmade and designed to sit comfortably in your palm, these bright hued vessels are a godsend for couch potatoes and multitaskers alike. You may just find a moment of Zen in that extra-large helping of hot cocoa. " - The Globe Style
View products
ACCOLADES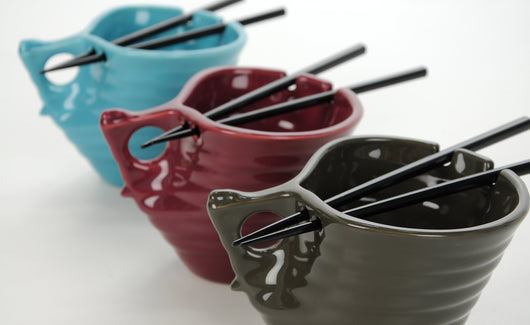 Winner - best product
Our Udon Noodle Bowl received The Best Product Award in the Tabletop category at The International Gourmet Products Show in San Francisco.
Starbucks Commercial
Good days start with coffee.  Our Baby Buddha Bowl was featured in a Starbucks Coffee commercial campaign featuring their VIA instant coffee.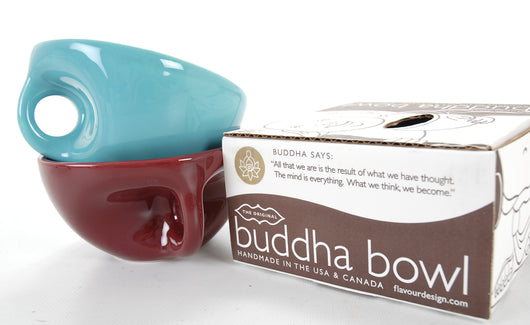 San Francisco Chronicle
"Handcrafted bowl wins our Super Bowl trophy. With apologies to the heavily favored and undefeated New England Patriots, here's our SUPER BOWL winner."  
OUR MANTRA
"What you think, you become.  
What you feel, you attract.
What you imagine, you create." Buddha